Rock and Roll in Florida - This guide from the State Library of Florida explores Florida's rock music scene. Resources include archival photographs of some of the most famous rock acts performing in Florida, biographies and even trivia books. 
Zora Neale Hurston and the WPA in Florida - Use Florida Memory to learn about all the work done by Zora Neale Hurston, Stetson Kennedy, and other folklorists in Florida.


Florida Blues on Cerago - This interactive quiz and flashcard software introduces some Florida Blues artists with photographs and audio clips. 


Drop on Down in Florida: Field Recordings of African American Traditional Music, 1977-1980 -  Released in late 2012, this 224-page hardbound book and two CD set is an expanded reissue of a double-LP produced by the Florida Folklife Program in 1981. It is the result of an exciting partnership between the Florida Folklife Program, the State Archives of Florida, and Dust-to-Digital Records. 


Florida's Got the Blues Traveling Museum Exhibit - Many notable blues artists are featured in an engaging exhibit from the Museum of Florida History that explores topics such as Early Blues, Florida Women and the Blues, Blues Clubs and Jook Joints, Depression Blues and the WPA Recordings, Popular Music and the Blues, and Contemporary Blues. This traveling exhibit is available for rent and has been displayed in museums throughout Florida.
Blues in Florida - This guide from the State Library of Florida explores Florida's blues music heritage along with related genres like jazz, soul and funk. Resources include photographs, biographies and sound recordings.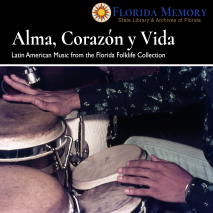 Alma, Corazón y Vida – This is a collection of Latin Music from the Florida Folklife Collection. Visit this page to listen to music, view artist photos and read about the many varied Latin American musical traditions in Florida.